Upgrade to Office Configuration Analyzer Tool (OffCAT) version 2.2
Mark as New

Mark as Read

Bookmark

Subscribe
Published
Jun 02 2016 12:40 PM
9,853 Views
Once again the OffCAT team has shipped a new version (v2.2) that includes some pretty cool features to those found in earlier versions. Hopefully, you will find these features useful and that you understand why there were added in v2.2.
Let OffCAT fix issues for you
We heard you loud and clear that OffCAT needs to be able to fix issues that it finds. Well, in OffCAT v2.2 we added a 'Fix it for me' option for rules that detect problems in the registry.
Depending on the detected issue, you may also see a Fix it for me link at the top of the Solution and Issue Description pane.

When you click the Fix it for me link, OffCAT will make the necessary changes to your registry to fix this problem.
Note: When you click Fix it for me, the changes made by OffCAT are the same changes provided in the article referenced by the Click there to see possible solutions to this issue link and the changes can be undone, as shown in the following figure.

We are adding this functionality to more rules in the near future, so the list of issues that can be fixed by OffCAT will certainly grow over time.
Addition of ROIScan to the tools found under ADVANCED Tools
The Robust Office Inventory Scan (ROIScan) tool is a very popular tool that has lived as a vbs script in TechNet for many versions of Office. It is such a great tool for troubleshooting issues such as Office installation and Office updating that we decided to offer it as an advanced tool in OffCAT.

Just click that link, select your scan type, and then click the 'Click to scan' control to start the scan.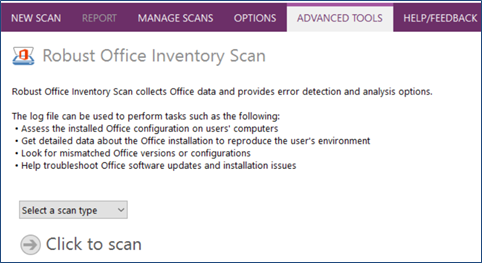 When the scan is finished, the results are displayed in a format similar to other types of OffCAT scans.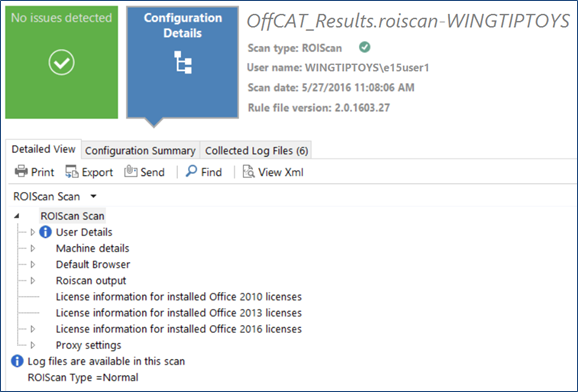 To view and/or save any of the files generated by the scan, select the (new) Collected Log Files tab of the report.
Easier access to log files
As you can see in the previous figure, there is a new tab called Collected Log Files found under Configuration Details in your reports. The list of files found in Collected Log Files varies by the application scanned or the tool run under Advanced Tools. For example, the following figure shows files available for an Excel scan.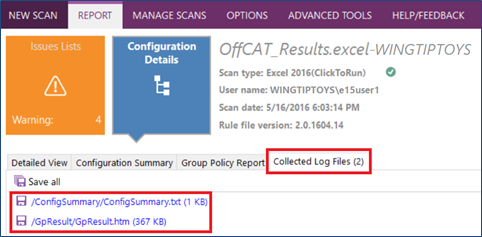 And, the following example shows the files available when you use the Real-Time Logging feature in Advanced Tools.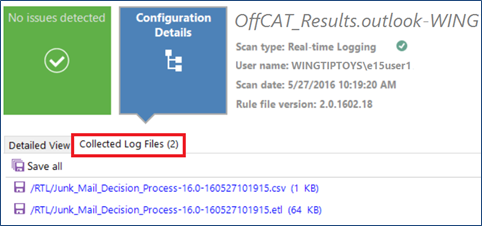 Just click any file to save it to your local drive. Then, open the file in the your favorite program associated wth the file extension.
Note: The .etl log files are binary files that can't be read without a conversion process. If you are working with a Microsoft Support engineer, you can upload the log files to a secure location that is provided by Microsoft Customer Support Services. A support engineer from Microsoft can then process and analyze the log file(s) for issues.
More control over the OffCAT icon in the Windows Notification area
OffCAT adds an icon to the Windows Notificaton area that is part of a feature set that manages rule file updates, add-in integration, and real-time crash detection. To give you more control over the display of this icon we added the Disable option to the context menu for the icon.
If you select Disable, the following changes occur:
The OffCAT icon is no longer displayed in the Windows Notification area
Notifications from OffCAT will not be displayed (for example, real-time crash alerts will not be displayed)
Give OffCAT a 5-star rating
In addition to the 'Tell us what you liked' and 'Tell us what we could do better' feedback options, you can also rate your OffCAT experience with the new 5-star rating control found on the HELP/FEEDBACK page.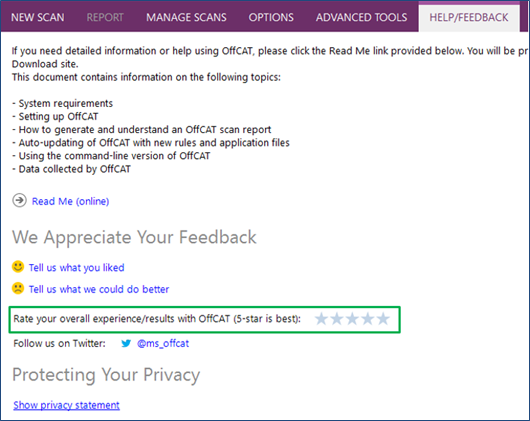 We encourage you to use this new feedback option as it is a quick and easy way to let us know how we are doing.
Additional information
The OffCAT v2.2 ReadMe – full version.docx file contains a great deal more information on features, functionality, and administration of OffCAT. This includes, but is not limited to:
Installing OffCAT, including system requirements
Scanning programs with the command-line version of OffCAT (OffCATcmd.exe)
Managing OffCAT through policy settings
We encourage everyone, especially people that use OffCAT in any Help Desk/Support context, to review the ReadMe file so you can take full advantage of everything found in this latest version of the tool.
OffCAT v2 ReadMe - full version
Note that we also published a 'basic' version of the ReadMe file. This version of the file is a much shorter version of the ReadMe and is aimed at first-time users of OffCAT.
Greg Mansius
3 Comments
You must be a registered user to add a comment. If you've already registered, sign in. Otherwise, register and sign in.