Announcing the updated Exchange Deployment Assistant site
Mark as New

Mark as Read

Bookmark

Subscribe
Published
Mar 22 2019 12:08 PM
10.3K Views
Today we're announcing a new site for the Exchange Deployment Assistant – https://assistants.microsoft.com! Like the rest of the Exchange documentation, the Deployment Assistant has lived on TechNet since it was created. With the move towards the docs.microsoft.com platform, we needed to make a similar migration for the Deployment Assistant. With the move to the new assistants.microsoft.com site, we've updated the Deployment Assistant to focus solely on on-premises deployments. For online and hybrid scenarios, we've had two different resources offering the same guidance: the EDA, and the Office 365 mail migration advisors. Rather than having the same guidance in two different places, we're standardizing on the Office 365 mail migration wizards for online and hybrid deployments. When you go to the new site, you'll see two options: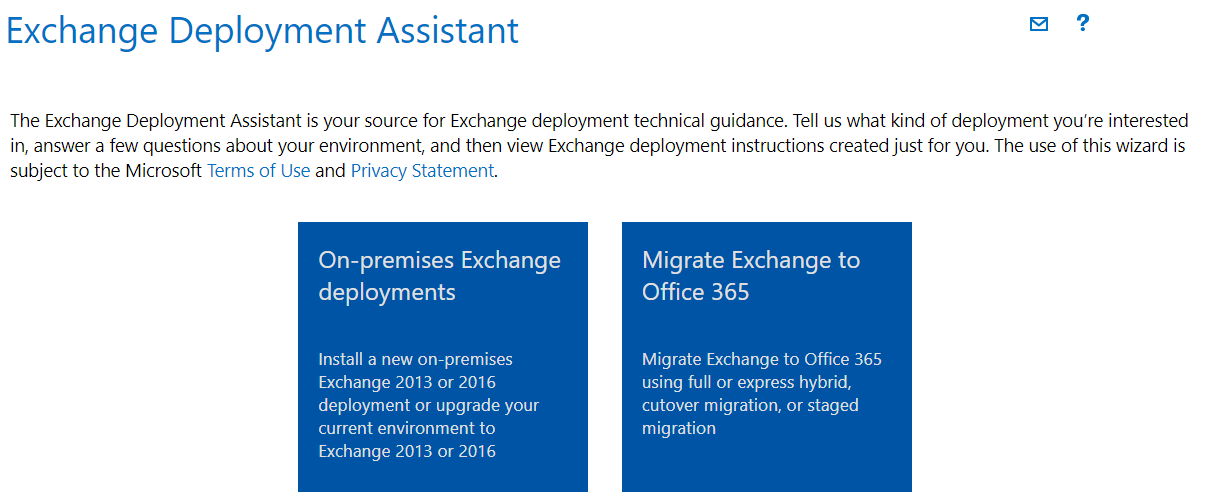 The first option, On-premises Exchange deployments, will go to the Deployment Assistant and all the on-premises deployment options you know and love today. You can select questions and answers to build checklists that help you deploy new Exchange 2013 or Exchange 2016 organizations, or upgrade to them from previous versions of Exchange. Exchange 2019 scenarios are coming soon! The second option, Migrate Exchange to Office 365 will take you to the Office 365 mail migration advisors. The Office 365 mail migration advisors offer the best solutions for helping you migrate your organization to Office 365. These include staged and cut-over migrations and all flavors of hybrid migrations. They'll help you decide which migration option is best for you and even make sure your Office 365 tenant is ready for the migration! For those of you who are in the middle of an on-premises deployment or migration to Office 365, the existing Deployment Assistant will remain available until the end of April 2019. After that, and for everyone who's looking to start a new deployment or migration, please start using the new Deployment Assistant at https://assistants.microsoft.com. Finally, we want to host additional assistants at https://assistants.microsoft.com in the future, for Exchange and other products. What are some guided assistants you'd like to see? Let us know in the comments! Thank you! The Exchange Content Team
5 Comments
You must be a registered user to add a comment. If you've already registered, sign in. Otherwise, register and sign in.