Deleted
Not applicable
‎Oct 25 2017 09:20 AM
Mark as New

Bookmark

Subscribe

Mute

Email to a Friend
‎Oct 25 2017 09:20 AM
Hi Teams folks - there was a great slide at Ignite (below) that finally put all three Office 365 Group communications methods into one graphic, which targeted the 'correct' use cases for Teams, Yammer, and Outlook. The one problem is Yammer still isn't integrated as a full-fledged Group communication pathway yet. When I create a Group in Teams or Outlook, I get access to communicate in both Teams and Outlook, all as part of the same Group. Yammer, on the other hand, can't do this.
What would make this graphic (and concept) a home run is providing Yammer as a fully integrated comm method in that one Group. In effect: create a Group (regardless of where it's created: Teams, Outlook, Planner, SharePoint, Yammer), choose your communication method later (or use all three like the graphic suggests!).
I realize this may be more a comment to Yammer or Groups teams, but it definitely affects Teams because communication needs may change, but content needs don't. So a team may have to jump ship on Teams for Yammer (or vice versa!) but want to retain their SP/Planner/etc. content. And that's a logistical nightmare. It would be nice to have "a Group" that lets my team keep the same membership no matter what and bounce between our inner loop, outer loop, and email as we need to, while retaining all the other Groups apps as they are.
Anyway, question is will the communications methods all become fully integrated into Groups and if so, is there a planned date for that?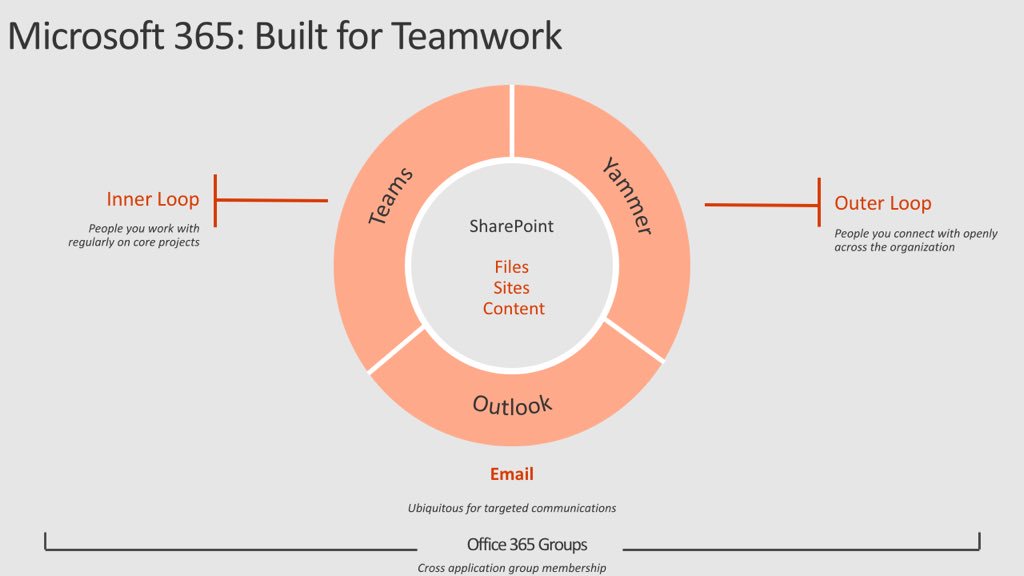 4 Replies